Hello! Christmas Appeal
Thank you for supporting Hello!'s Christmas Appeal.  
It is wonderful that Hello! are helping to shine a light on the work of baby banks like ours and raising awareness of some of the impossible circumstances faced by families with young children during the cost-of-living crisis.
We are so grateful to Kym Marsh who is supporting this very special Christmas appeal. As a young mum, Kym struggled financially and knows how hard it can be to raise a family on a low income.
We would like to thank everybody who has already supported this appeal. If you would like to know how you can help, please see below.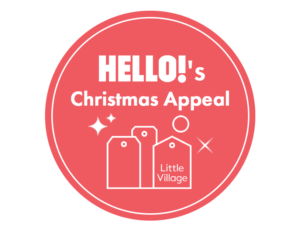 Why do we need your help?
Little Village runs a network of baby banks across London, providing essential items including clothing, toiletries, nappies, cots and prams for families of under 5s who are going through tough times, as well as advice and support.  
As the cost-of-living crisis deepens, demand for our service is growing and more families need our help in providing these essentials.  
Each week we hear heartbreaking stories of families taking extreme measures to survive. We've met parents forced to ration their babies' nappies; others having to water down formula to make it last longer and babies sleeping on the floor because the family can't afford a cot.  
UK baby banks map
If you're outside London, you can find a map of baby banks across the country here. 
Your local baby bank be very grateful for any financial donations, pre-loved children's clothing and equipment, as well as people willing to volunteer.