Family activities
Our mission at Little Village is to make it as easy as possible for families to help one another. We want to build small, warm communities of parents supporting one another across this global city of London. Unfortunately, the pandemic has made it impossible to run our normal weekly schedule of friendly drop-in sessions.
While we aren't able to meet in person right now, we're always looking for other ways of building connections between families. We love to include personal touches in the bundles we gift on to families. Here are a few ideas of how you can show solidarity to a family that's experiencing tough times. Think about what would make you feel good as a parent or child receiving a gift from the Little Village community. Let your imagination run free!
Get your little one to make a card for another child
Why not get them to draw a rainbow or something else cheery for us to include for the children we're supporting? You can download a Little Village colouring sheet here – perhaps your child could start it off and invite the recipient child to complete it.
Download our colouring sheet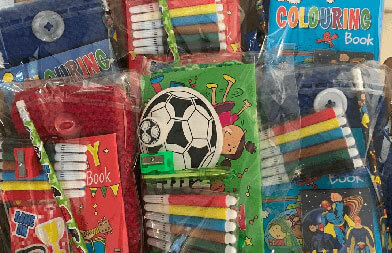 Make a craft pack
The lockdown is tough for all of us. It's particularly difficult if you have limited space and limited access to the internet. Why not make up a little craft pack for us to include in our parcels? Some pencils, a glue stick, colouring books, pipe-cleaners… whatever you have at home! Download a Little Village gift tag sheet to include with your packs.
Download our gift tag sheet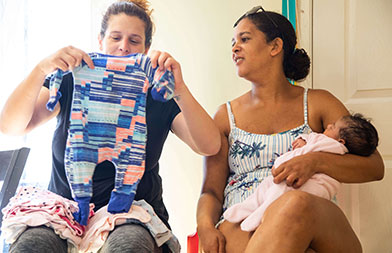 Write a letter from one parent to another
The parents we support want the very best for their kids, and often feel despairing about how the system has made it so difficult for them to give their children the start in life they deserve. You could write a note to a parent to let them know they have people out there who care, and are on their side.
Download our postcard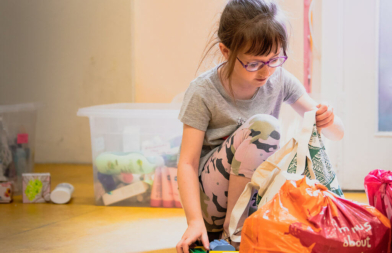 Have a good sort out!
Kids love to help with sorting activities, and they are some of our most dedicated volunteers when it comes to puzzle checking and sock sorting! If you have stuff to donate, involve your kids in sorting, labelling and readying items to donate.
Find out more about donating stuff