Get involved
We supported 6,463 children in 2021, and want to ensure we can continue to match the ever-growing demand for our support. There are many ways that you can support what we do:

Donate money
Whether you make a one-off payment or set up a regular monthly donation, your financial support makes all the difference.
Donate money

Donate hygiene products via our wish list

Donate stuff

Fundraise for us
Even during the pandemic we've seen some fantastic fundraising from our community, including a 7-year-old marathon runner and a sponsored hair shave that raised over £15,000! If you'd like to get involved, every penny you raise will make a huge difference to the families we support.
Fundraise for us

Support us through your employer
Payroll giving is deducted from your salary before tax, meaning it costs you less to help us. Some employers also offer a 'matched giving' scheme where they match or double a donation!
Read the guidelines

Get involved as a business
Many brands and businesses are kind enough to donate products for the packs we send out to families. If you share our vision, please get in touch.
Get involved as a business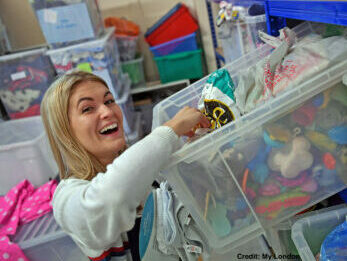 Volunteer with us
If you'd like to give up some of your valuable time to help Little Village, we would love for you to join the crew! We offer a variety of roles, with plenty of training to support you. You can get on the phones to call families; you can sort donated stock and create the beautiful bundles we prepare for families; you can deliver items. You can volunteer on site or remotely, so please do get in touch to find out more.
Learn more about volunteering
Follow us and spread our message
follow @littlevillagehq